Enterprise Computer Based Training  (Click here to Download the Documentation)

Offline | Multi-Media | Browser-Based
Education prepares people for the Real/Professional world and in this world, over 90% of Businesses and Government use Microsoft Windows and Office programs to get jobs done. One of the eligible requirements of today's job postings is to have a working knowledge of such programs in order to be considered for the job.
For instance, without Microsoft Word, one cannot be able to type letters, articles etc.
Without Microsoft PowerPoint, one cannot make a lively/convincing/fully comprehensible presentation.
Qwerty System Solutions Limited is pleased to introduce
Enterprise Computer Based Training
Offline | Multi-Media | Browser-Based
Endorsed by the
NATIONAL INFORMATION TECHNOLOGY DEVELOPMENT AGENCY
Enterprise Computer-Based Training is known to be IMMEDIATE, HASSLE-FREE AND MORE AFFORDABLE than live training options.  Computer-Based Training (CBT) however, is an interactive method of learning that provides a series of SELF-PACED, HANDS-ON courses.
CBT offers technology, managerial, and supervisory curricula. These technology courses includes
– Introduction to Computers and Internet
– Microsoft: Windows 7 and 8, Office 2007, 2010, 2013.
– Adobe:         Acrobat, Dreamweaver, Photoshop, Illustrator CS4, CS5, CS6.
– Intuit:           QuickBooks 2010, 2011, 2012, 2013.
– Apple:          Mac OS, Mac Office 2008.
ECBT is an easy and powerful tool for learning essential computer skills. The ECBT search function allows you to locate courses on a particular topic.
Depending on your knowledge of the topic being covered, you can choose BASIC, INTEMEDIATE or ADVANCED training.
IT MANAGED SERVICES
ICT is a support function that enables a Company to do its core business.
This is understandable for small businesses with a keen eye on costs and budgeting, but recognise the value of technology for efficiency.
Qwerty System Solutions Limited ensures IT Infrastructure runs efficiently and safely, while freeing up resources for the company to focus on more strategic goals.
We do this by monitoring your software and hardware, and by automating critical software and security updates. We also provide an early warning of possible ICT problems, so you can deal with impending issues and keep everything running smoothly.
You can get in touch with our qualified in-house Service Desk team by telephone, email, chat application like Whatsapp or Teamviewer as often as you like.
Features provided in our IT Managed Services package.
Servers, laptops, workstations and networks are scanned for problems and anomalies that warn of impending problems.
Backup and data storage monitored for success and critical irregularities.
Network infrastructure monitored
Security, anti-virus, anti-spam updates applied automatically
Bespoke preventative ransomware protection
Software updates and patches applied automatically and scheduled when they will cause least disruption
Hardware and software assets audited
Reporting
We also offer Remote Support:
Unlimited telephone & email support
Unlimited remote support (servers, PC's & networks)
Standard Service Desk hours 8.00am to 6.00pm daily
Preventative maintenance & updates
Real-time monitoring & alerts
Guaranteed response & resolution times
High rate of first-contact resolution
On demand ICT advice
Dedicated Account Manager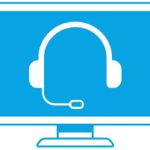 Remote Assistance